Games enthusiasts across Australia are preparing for the ultimate gamers pilgrimage to Victoria for Melbourne International Games Week and PAX. This will be the first full-scale return to in-person programming across the events since 2019.
With over $55,000 in prizes up for grabs over a packed PAX schedule, Fortress, along with partners Alienware and Telstra, are providing the ultimate games experience in Melbourne.
The Hunt, Fortress's milestone activation across 7th-9th October will send players searching for checkpoints across the city – from the Fortress booth at PAX in MCEC to Fortress Melbourne's own venue. Players can seek out real-life NPCs, find codewords, call secret numbers on selected Telstra payphones, and plenty more to earn points and earn prizes. The full list of clues will be available on Fortress's website at 9AM on Friday 7th October.
The Fortress PAX Gala, which sold out in just a few hours last month, brings together gamers in the Alienware Arena for a night of 'Main Character Energy', while over at MCEC, the Fortress PAX Booth will offer up a range of experiences for attendees – from a Spin the Wheel game to an exclusive first look at Fortress Sydney in Virtual Reality.
Across the weekend, gamers can get a taste of the latest Alienware products at the Alienware Expo within Fortress Melbourne and watch a roster of local talent streaming live from Fortress's Streamer Pods with the Alienware Aus Creator Showcase.
Giving back to the community, from October 3rd – 16th patrons can enjoy 2 hours of free play on any available PC in Fortress's LAN Lounge thanks to Telstra's Game Fast. Game Free. The offer allows gamers the chance to dive into Fortress's extensive library of games on premium speeds and setups, and the perfect spot to switch off and game over the busy PAX weekend.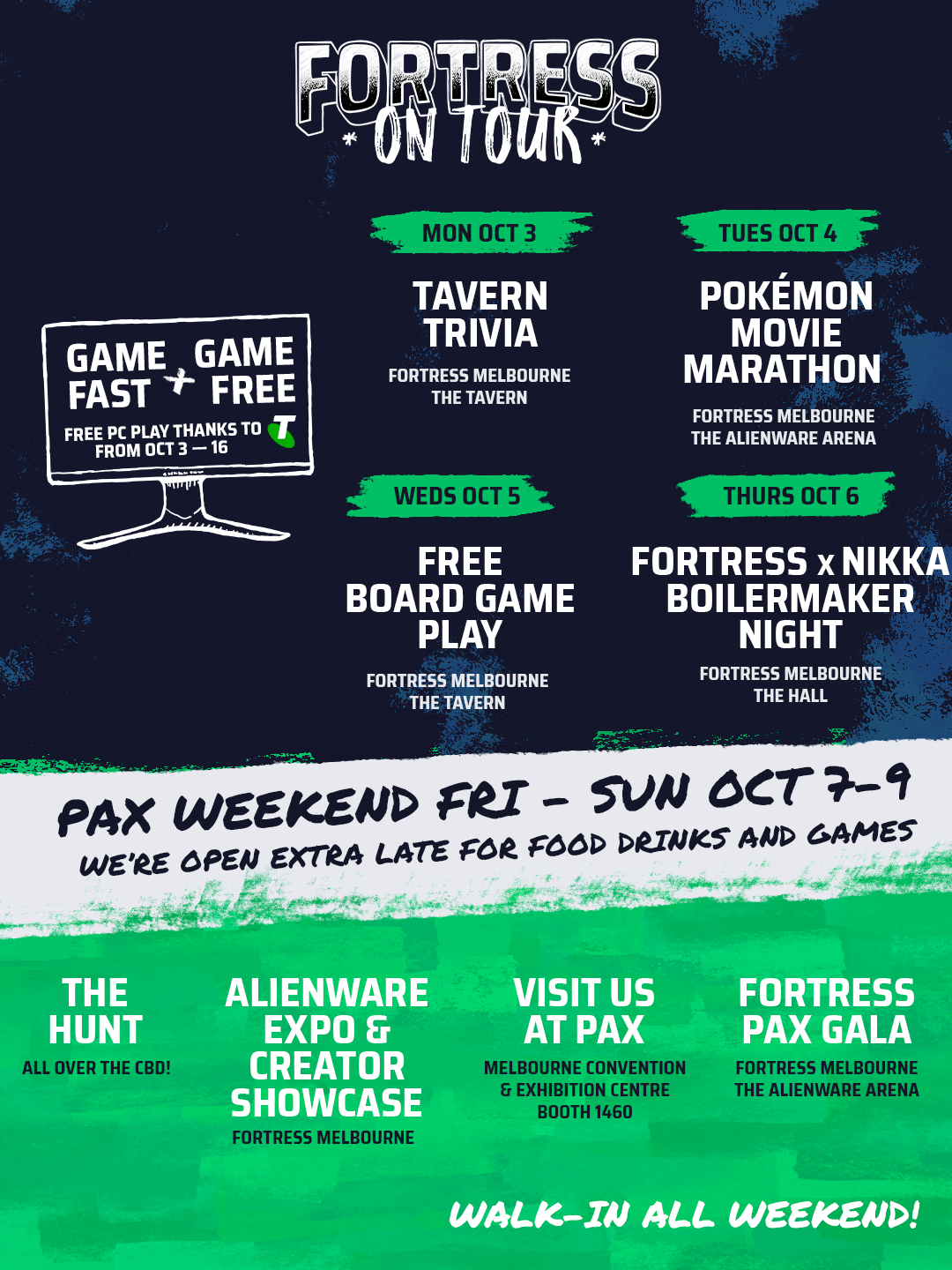 A full breakdown of events can be found at fortressmelbourne.com/fortress-on-tour.