Halo fans rejoice! The Winter Update for Halo Infinite has finally arrived!
This is the largest feature update to Halo Infinite since its release, bringing with it a number of highly anticipated experiences such as Campaign Network Co-Op, Mission Replay, the Forge Beta, and a plethora of new, free content for all players.
On the Halo Waypoint website, the developers have recognised the impact of the games troubles since launch.
"We want to acknowledge and thank our players who have stuck by us and provided feedback to improve the overall Halo Infinite experience—the Winter Update marks a big step forward for all of us".
WINTER UPDATE OVERVIEW AND NEW FEATURES
This update brings new content, numerous bug fixes, and several new features to Halo Infinite.
NETWORK CO-OP CAMPAIGN
Network Co-Op allows up to four players to play through the entire Halo Infinite Campaign together.
To start a Network Co-Op Campaign session, follow the steps below:
Launch Halo Infinite.
Select the "+" symbol underneath your Nameplate to add players to your Fireteam.
From the Social menu, select the Friends tab.
From here you can join a friend's Fireteam or invite them to join yours by selecting their Gamertag and choosing from the options on their Profile menu.
Once the Fireteam has been formed, the Fireteam Leader (FTL) should navigate to the Campaign menu in the Play tab. The FTL is identified by a crown icon in the Fireteam widget located in the bottom left of the screen and in the Social
In the Campaign menu, the FTL can select to Continue their latest save file, start a new save file, or load a specific save file.
Once the FTL selects their save file, they will enter the Campaign Co-Op menu where they can select the preferred Difficulty level and which Skulls to enable.
After pressing the Start Co-Op button, the rest of the Fireteam will be prompted to select their save file.
The FTL can select Start Game to initiate the session once all players select their save file.
Using the selected save files, the Fireteam's campaign progress is aggregated so that the session's progress reflects content that all members have completed. This allows all progress made in co-op sessions to be applied to each player's individual save file.
Collectibles, such as Data Pads and Skulls, will appear in co-op sessions if any Fireteam members have not collected them in their individual save. Collecting these items in co-op will unlock them for all Fireteam members who had not already collected them. If all players in the session have collected these items, they will not appear or be interactive.
Unlocked equipment, equipment upgrades, and High Value Target (HVT) weapon variants will remain unlocked for individual players in co-op sessions even if all Fireteam members have not yet unlocked them.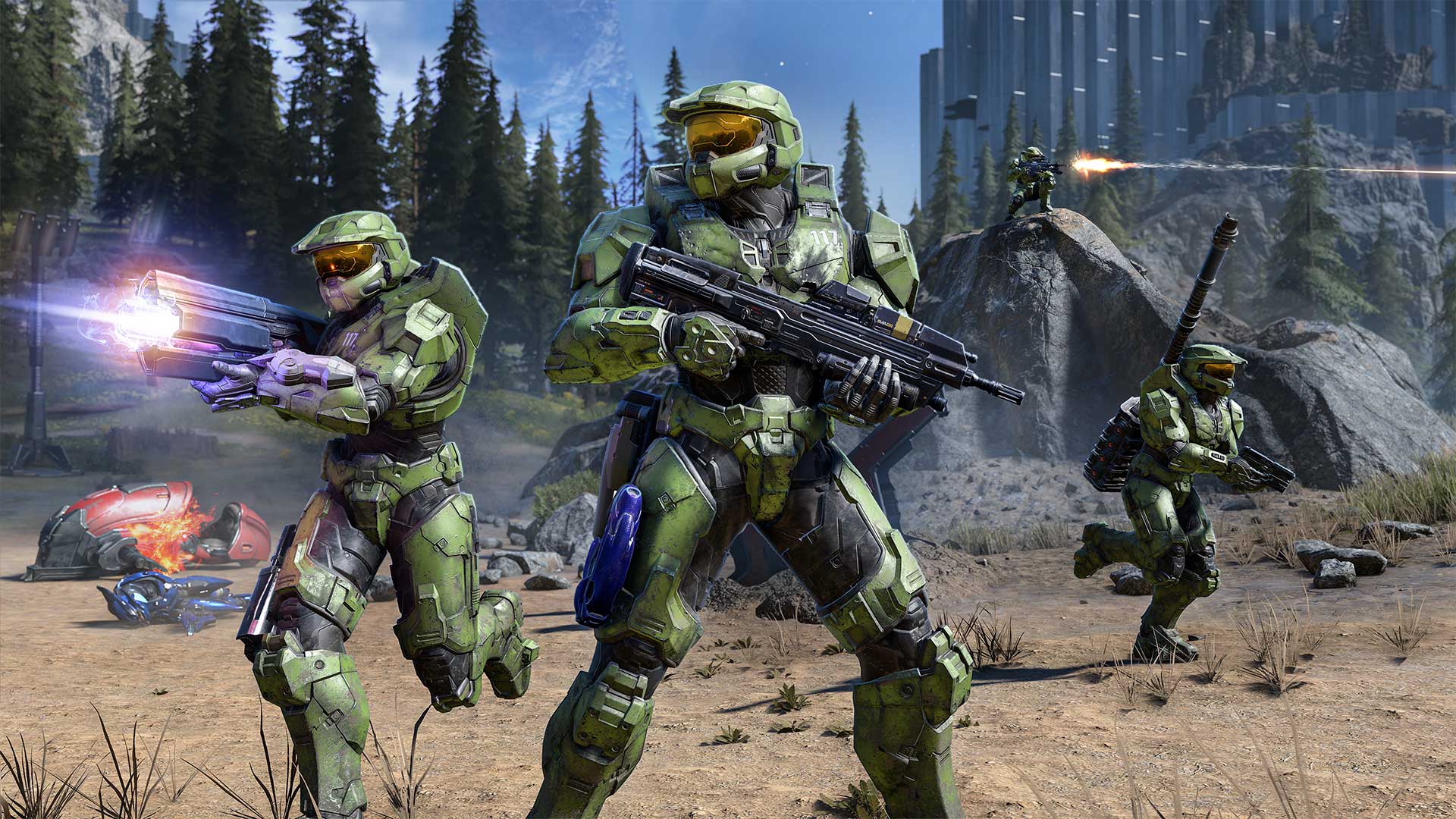 Up to four players can fight the Banished in Campaign Network Co-Op.
CAMPAIGN MISSION REPLAY
Main story missions and all side objectives like Outposts, Targets, and Marine Events can now be replayed.
To replay a mission or event that has already been completed, follow the steps below:
Launch Halo Infinite.
In the Play tab of the main menu, select Campaign.
Select Continue to use your latest save file or select Load Game to use a different save file.
Once in gameplay, open the TacMap With the default control bindings, this menu can be opened using the View button on a controller or the Tab key on a keyboard.
Navigate around the TacMap and locate a mission or event you would like to replay, then place the TacMap cursor on that objective's icon.
Use the shortcut listed on the bottom of the menu to open the icon's Mission Options menu.
In the Mission Options menu, select Replay Mission.
Select the preferred Difficulty and Skulls then press the Play button to initiate the Mission Replay.
When replaying missions, the weapon loadout you currently have equipped will be used in the selected mission. You can use this to play earlier missions with weapon variants unlocked from late game Targets or with newly unlocked Skulls. Unlocked equipment and upgrades will also carry over to earlier missions, even if the selected mission takes place before that equipment is unlocked.
After completing a Mission Replay or when leaving a replayed mission early, the save file's current mission will resume at the latest checkpoint available and all content unlocked in the Mission Replay (such as Skulls and audio logs) will carry over to the current save permanently. Completing mission on higher difficulties will count toward Achievements as well.
NEW CAMPAIGN ACHIEVEMENTS
As mentioned in an earlier blog post on Halo Waypoint, this update brings 24 new Achievements to Halo Infinite for an additional 420 Gamerscore. While some of these new Achievements can only be earned in Campaign Co-Op, many can also be earned while playing solo.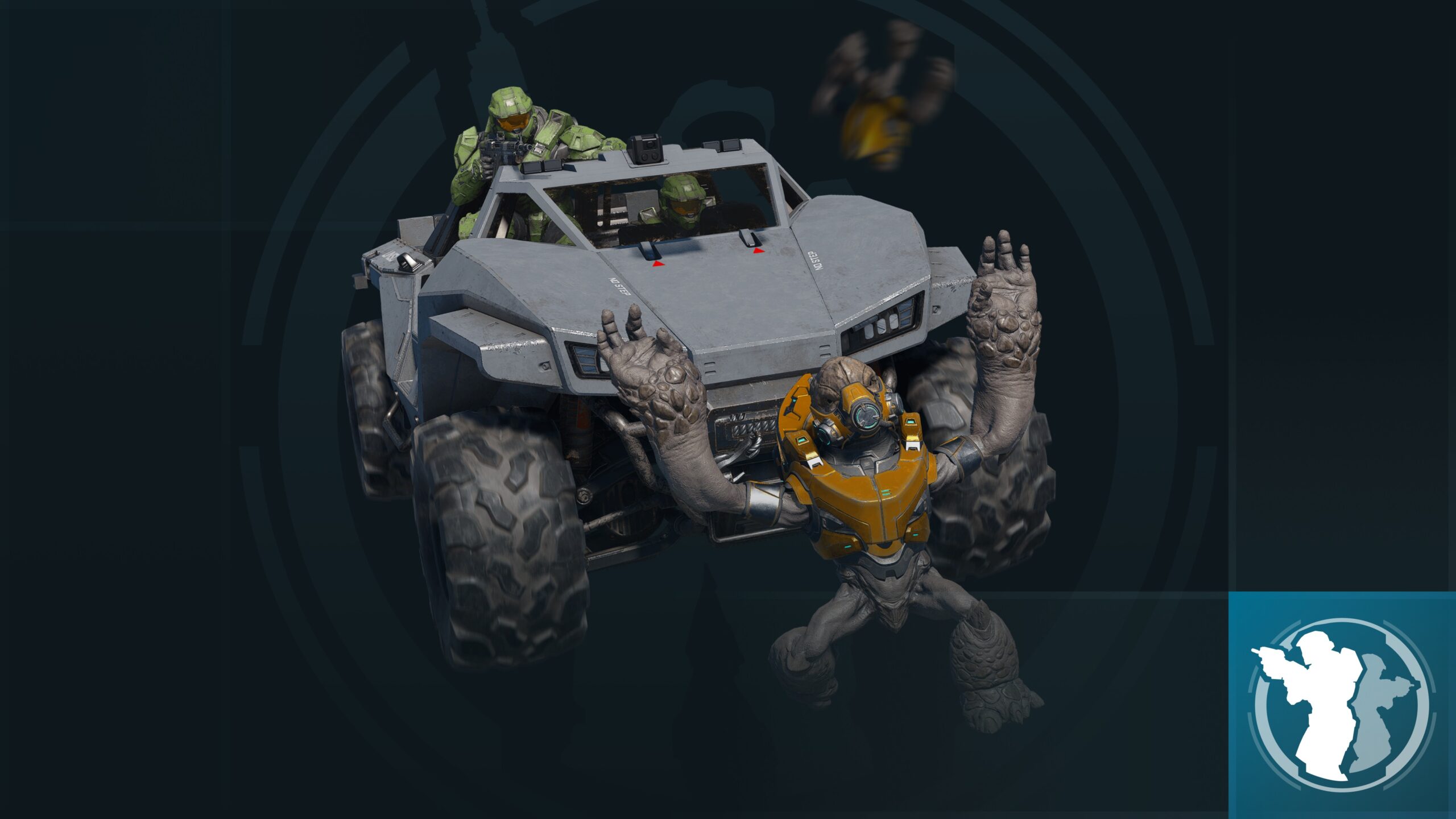 Artwork for the new Cow Catcher Achievement.
FORGE MODE (BETA)
This update brings Forge mode to Halo Infinite. Forge lets players create new multiplayer maps and game modes that can be shared with other players via the Community tab in the main menu. Within Forge, players can place and modify in-game objects, effects, and scripts to create a custom map.
To learn more about Forge in Halo Infinite, visit our Forge Overview article and the "Halo Infinite | Forge Beta FAQ" blog on Halo Waypoint.
It is important to note that Halo Infinite Forge mode is currently in a beta state, meaning that additional improvements are planned. The Forge Beta will support canvas maps and not developer-made maps (such as Live Fire, Recharge, Fragmentation, etc.). Support for developer-made maps will be implemented in a future update.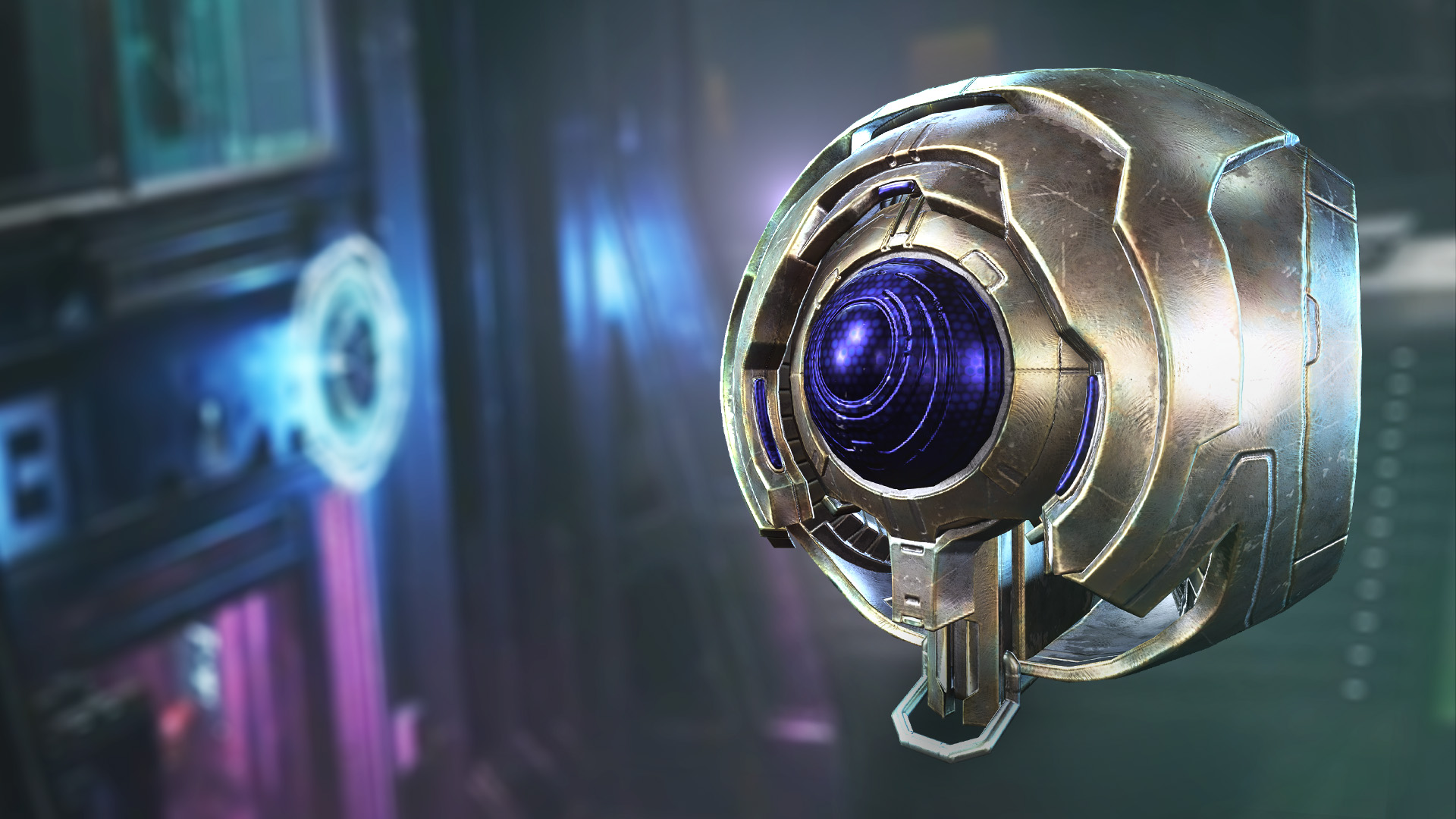 In Forge, players in Edit Mode will appear as Forerunner monitors.
PROGRESSION IMPROVEMENTS
The Winter Update introduces two major changes to Halo Infinite progression systems: the Match XP beta and improvements to Weekly Challenges. With these changes, players can expect Match XP to be the main driver in their Battle Pass progression. Weekly Challenges, while still granting XP alongside the Match XP beta, will be a path to unlock additional customization items.
For a full breakdown of these systems, visit the "Match XP Beta & Progression | Winter Update" blog.
Match XP (Beta)
In addition to the existing Challenge system, the new Match XP system rewards players for their performance in every matchmade multiplayer game. XP is awarded for accomplishments like:
Arena Match Complete: 150 XP
Big Team Battle (BTB) Match Complete: 250 XP
Featured Match Complete: 200 XP
Winning Team: 50 XP
Match MVP: 50 XP
Top 50% of Team: 50 XP
Free-For-All placement

1st: 150 XP
2nd: 100 XP
3rd: 50 XP
4th: 50 XP
5th: 50 XP
The Winning Team, Match MVP, and Top 50% of Team awards will stack for a total of 200 XP.
Note: Match XP is launching in a beta state. The development team is monitoring telemetry, player feedback, and Halo Support bug reports to verify that the system is working as intended. Additional improvements and changes to XP rewards may be implemented in the future.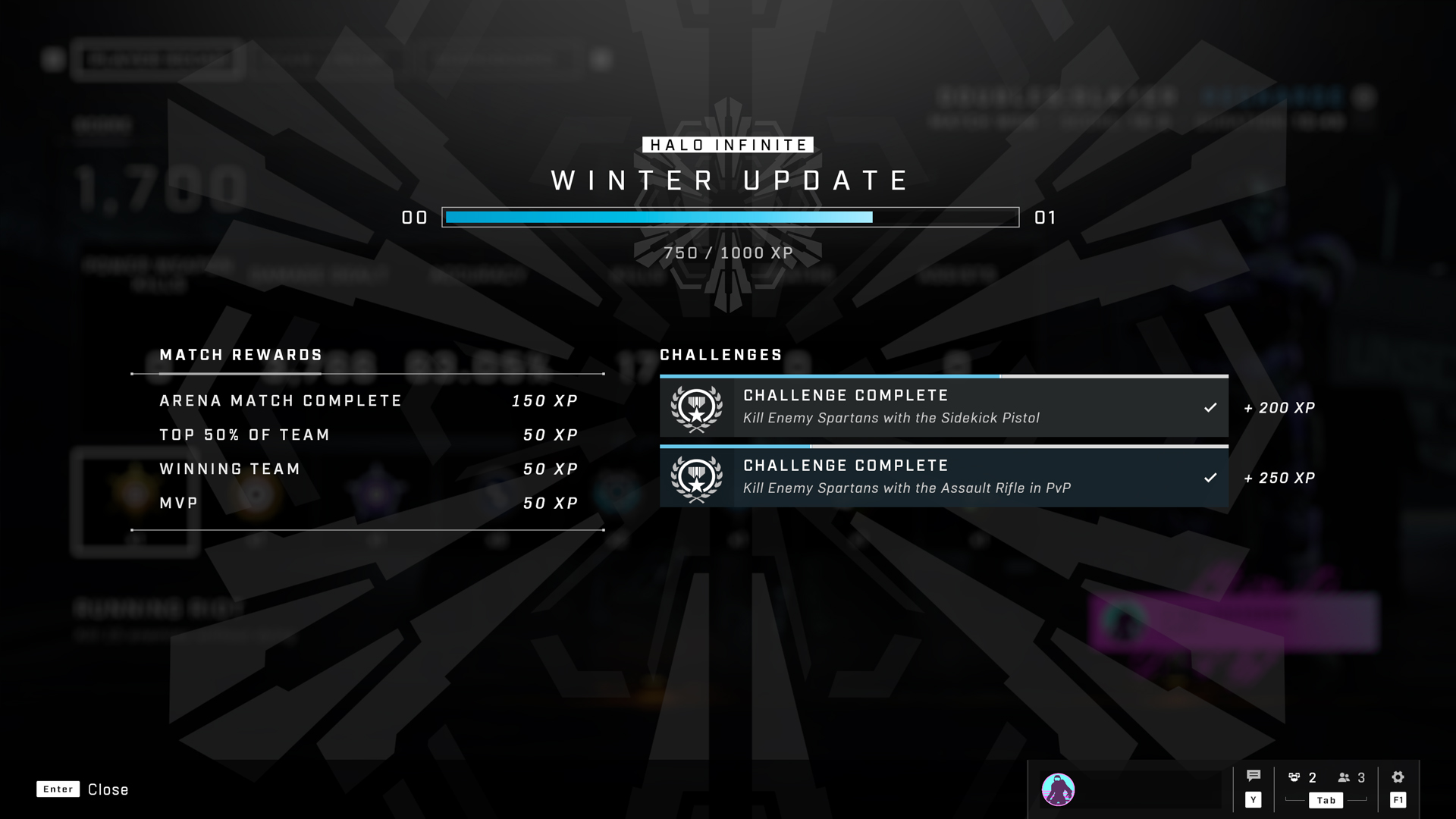 When a match ends, players will now see the Match XP they were awarded, which Challenges they completed, and their progress in the Battle Pass tiers.
Weekly Challenges
Starting alongside the launch of the Winter Update, the following changes have been made to the Weekly Challenge deck:
Challenges are more "general" overall.
The number of Challenges required to unlock the Ultimate Challenge has been reduced from 20 to 10.
All Weekly Challenges can now be completed in any multiplayer playlist.
WINTER UPDATE BATTLE PASS
The Winter Update introduces a brand new 30-tier Battle Pass that will be available to all players for free. This Battle Pass contains a wide selection of Halo: Reach-themed customisation items which players can earn via Match XP and completing Challenges.
Watch the "Winter Update Battle Pass Preview | Halo Infinite" video to see these Battle Pass rewards in-game and learn more about the Winter Update.
To change which Battle Pass is equipped, follow the steps below:
Navigate to the Battle Pass menu. This can be done from the main menu by selecting or using the shortcut listed within the Battle Pass tile in the top right corner of the screen.
Select the Switch Battle Pass button below the Battle Pass tile on the left side of the menu.
On the Battle Pass Switcher menu, use the checkbox below the Battle Pass tiles to equip the preferred Battle Pass.
Visit the Halo Waypoint Battle Pass and Free-to-Play FAQ article for more information.
UPCOMING EVENTS
Event dates listed here are subject to change. Keep up to date on the News section of Halo Waypoint for the latest updates on in-game events.
Winter Contingency II Event
Later this year, the Winter Contingency event returns to Halo Infinite! The Winter Contingency II event features a 10-tier Event Pass with new holiday-themed Customisation items for players to unlock.
Like previous in-game events, players can unlock this Event Pass's rewards by completing Event Challenges. Event Challenges are only available when an event is ongoing and can be identified by the orange banner icon near the Challenge's name. These challenges will often require players to complete matches or perform certain actions in a specific matchmaking playlist. Event Challenges cannot be completed in Custom Games.
Joint Fire Event
Early next year, the Joint Fire event will introduce a new 10-tier Event Pass and feature an asymmetrical Capture the Flag (CTF) variant: Covert One-Flag. More details in the "Winter Update Maps & Modes Preview" blog.
Like the Winter Contingency II event above, this event's rewards can only be earned by completing Event Challenges while the event is active.
NEW MULTIPLAYER MODE: COVERT ONE-FLAG
In Covert One Flag, two teams will swap between attacking and defending a single flag with each side having unique loadouts. The attacking team will attempt to sneak towards the enemy flag while equipped with Pulse Carbines, Sidekicks, and unlimited Active Camo. The defending team will hunt the invisible attackers and defend their flag with Commando Rifles, Energy Swords, and unlimited Threat Sensors.
Covert One Flag will rotate into matchmaking with the launch of the Winter Update and may rotate out in the future. During the Joint Fire Event, it will be available as a featured matchmaking playlist. Covert One Flag is available in Custom Games now, alongside the launch of the Winter Update.
NEW MULTIPLAYER MAPS
Both new maps included in the Winter Update were created in Forge. Check out the flythrough video here.
Argyle
Set on a UNSC ship deep in space, Argyle's large courtyards are surrounded by a web of staircases and ramps. Avoid enemy control of the map's long sight-lines by flanking through unguarded hallways. Alternatively, use one of the two sniper spawns to take down enemies from a distance.
Argyle is available in multiple Arena and Ranked matchmaking playlists. It is also available in Custom Games.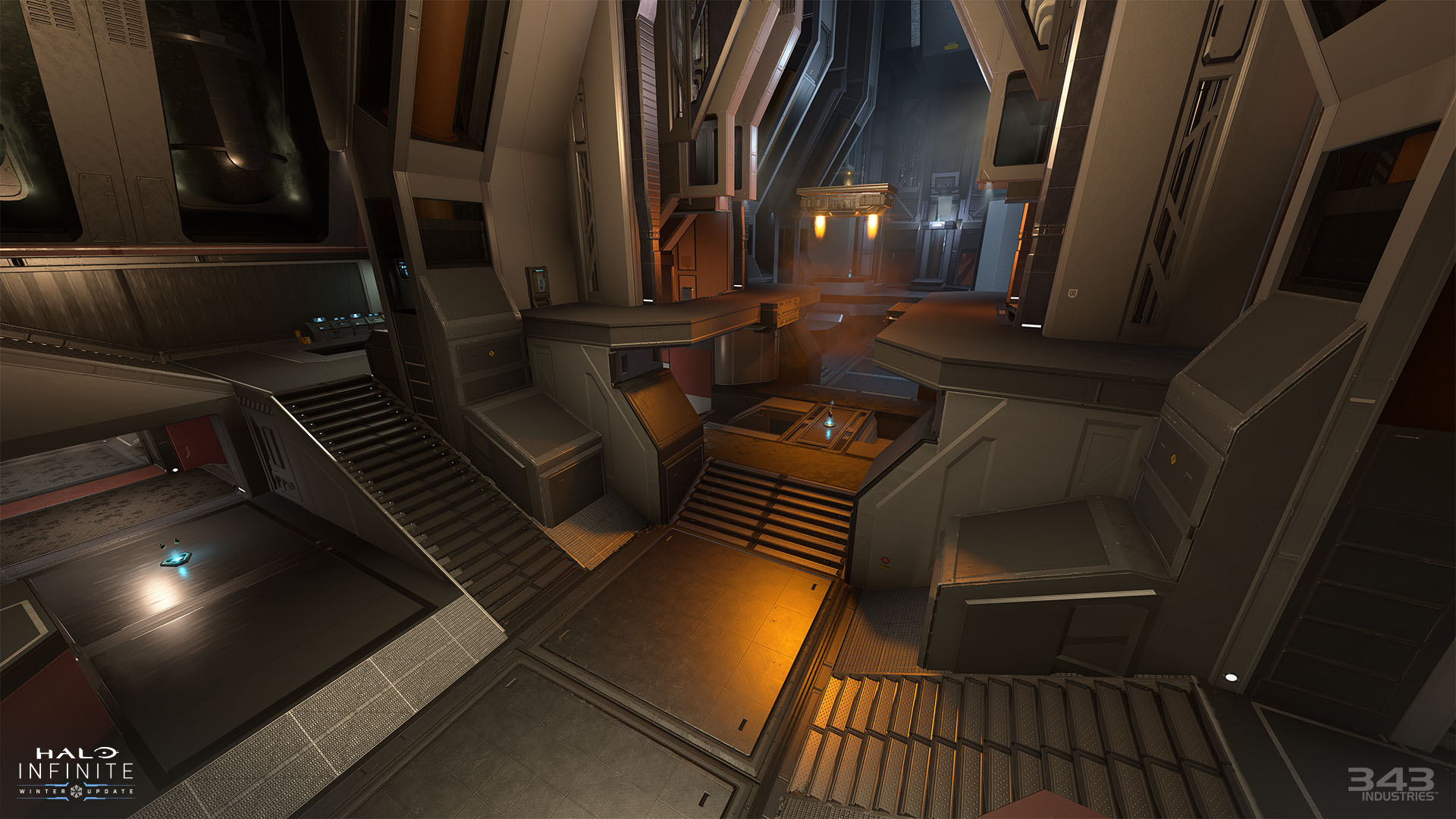 Argyle was created in Forge and uses the Void canvas.
Detachment
Inspired by Capture the Flag modes, Detachment features two bases connected by several unique routes. An island, reachable by multiple Man Cannons and the first teleporter in Halo Infinite Multiplayer, sits on the opposite end of a chasm from both bases. This island hosts a power weapon and great views of enemy positions.
Detachment is available in multiple Arena matchmaking playlists and Custom Games.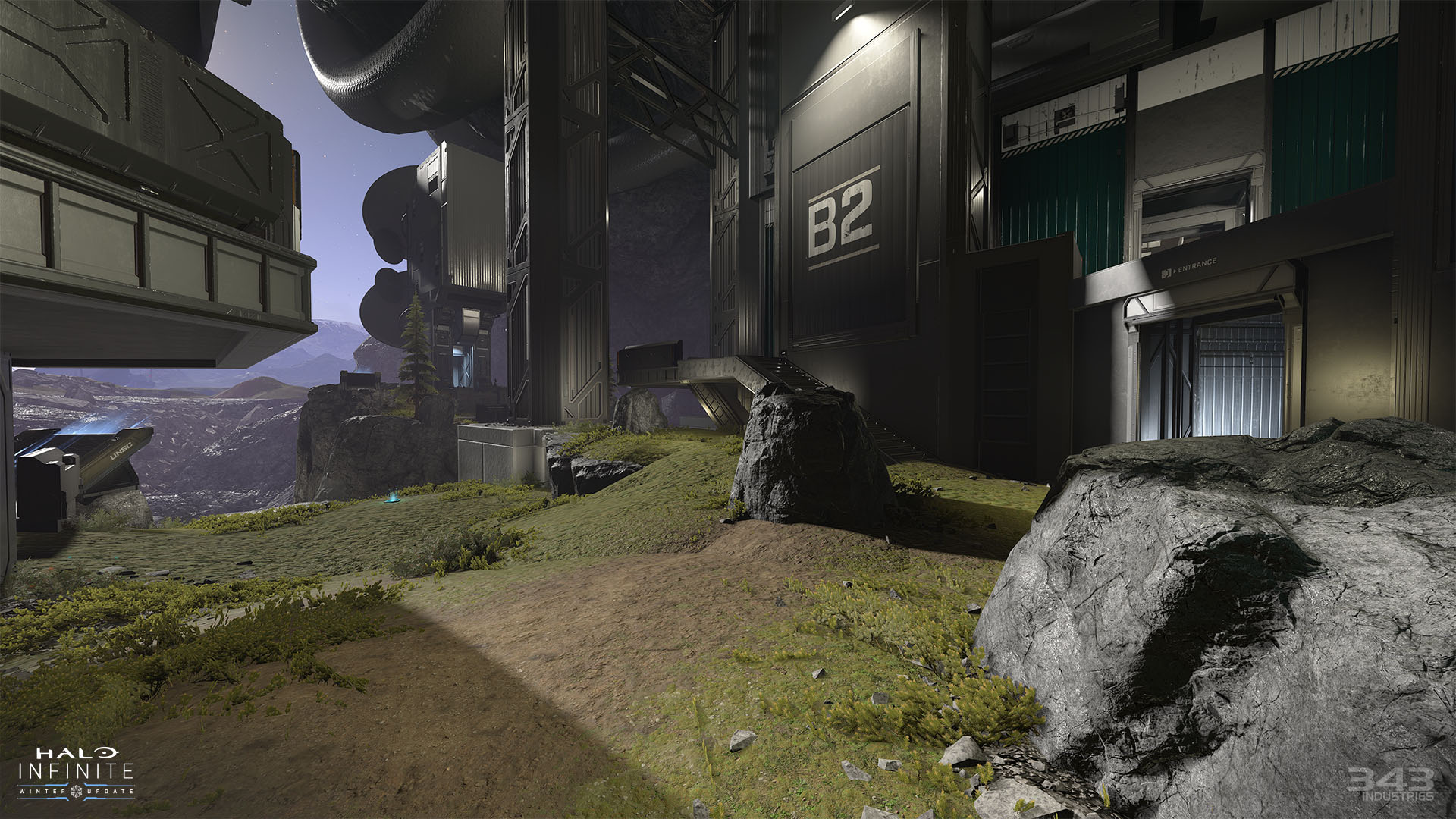 Detachment was created in Forge and uses the Institute canvas.
MATCHMAKING IMPROVEMENTS
Search Region Option
Players now have the option to limit their matchmaking searches to their current region. By default, matchmaking searches will be set to find matches in any region. Limiting searches to the local region may improve latency to the dedicated server, however, search times may increase and the fairness of matches may reduce.
To change the Search Region option, follow the steps below:
View the Control Panel or Pause Menu:

Press ESC or F1 on a keyboard or
Press Menu on an Xbox controller or
On the Main menu select the gear icon in the bottom right corner of the screen.

Select Settings.
Navigate to the Gameplay tab.
Under the Matchmaking header, select the Search Region option and use the dropdown to set the preferred limit.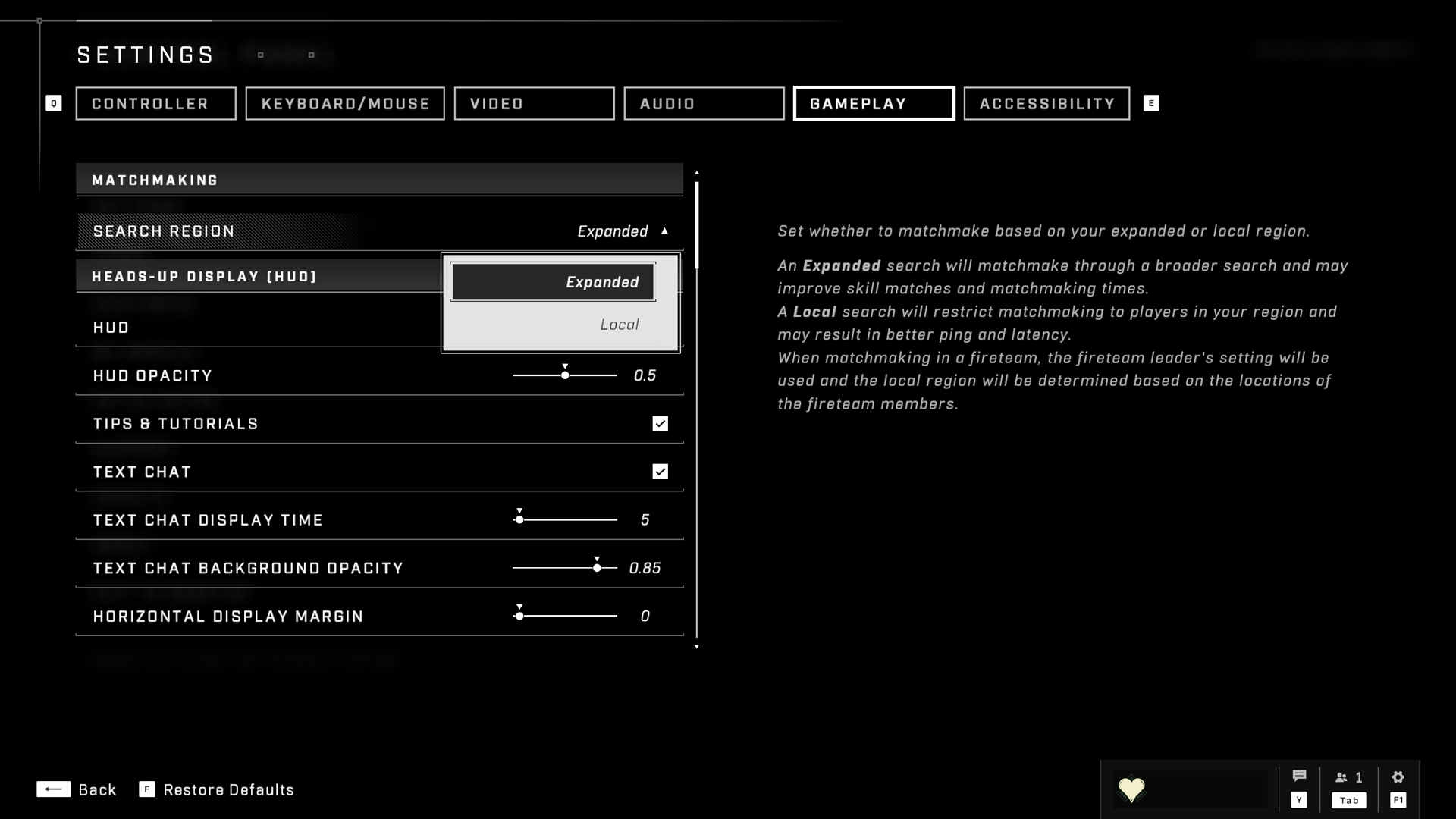 The Search Region option is located in the Gameplay tab of the Settings menu.
Competitive Skill Rank (CSR) Algorithm Update
The Competitive Skill Rank (CSR) algorithm has been improved. In response to feedback that the CSR gains or losses were tied too closely to players' individual performance rather than the team's performance, the algorithm has been reconfigured so that team victories and defeats play a greater role than personal performance.
The development team is closely monitoring how this change affects CSR progression metrics and player feedback. Players can provide feedback on the Halo Waypoint forums.
Reduced penalties for leaving uneven Ranked matches
Currently, any player who leaves a Ranked multiplayer match loses 15 CSR points regardless of whether the teams have an even number of players. With an upcoming backend service update, this rule will be adjusted so that only the first player to quit the match will lose 15 CSR points. If the first player to abandon the match leaves in the first few minutes, all the other players in the match will see less of an impact on their CSR gains/losses. Anyone who leaves the match after the first player will only lose 5 CSR points.
For a more detailed visual showcase of it all check out this video from their official Youtube.