In a shock announcement today, Wildcard Gaming have been denied travel clearance for the Rainbow Six Siege World Championships – the Six Invitational 2021.
Reports from official sources at Ubisoft have shared that the Australian government has not provided clearance for the team to travel to Paris for the championships. This announcement has been followed up by a tweet from the Wildcard Gaming this evening.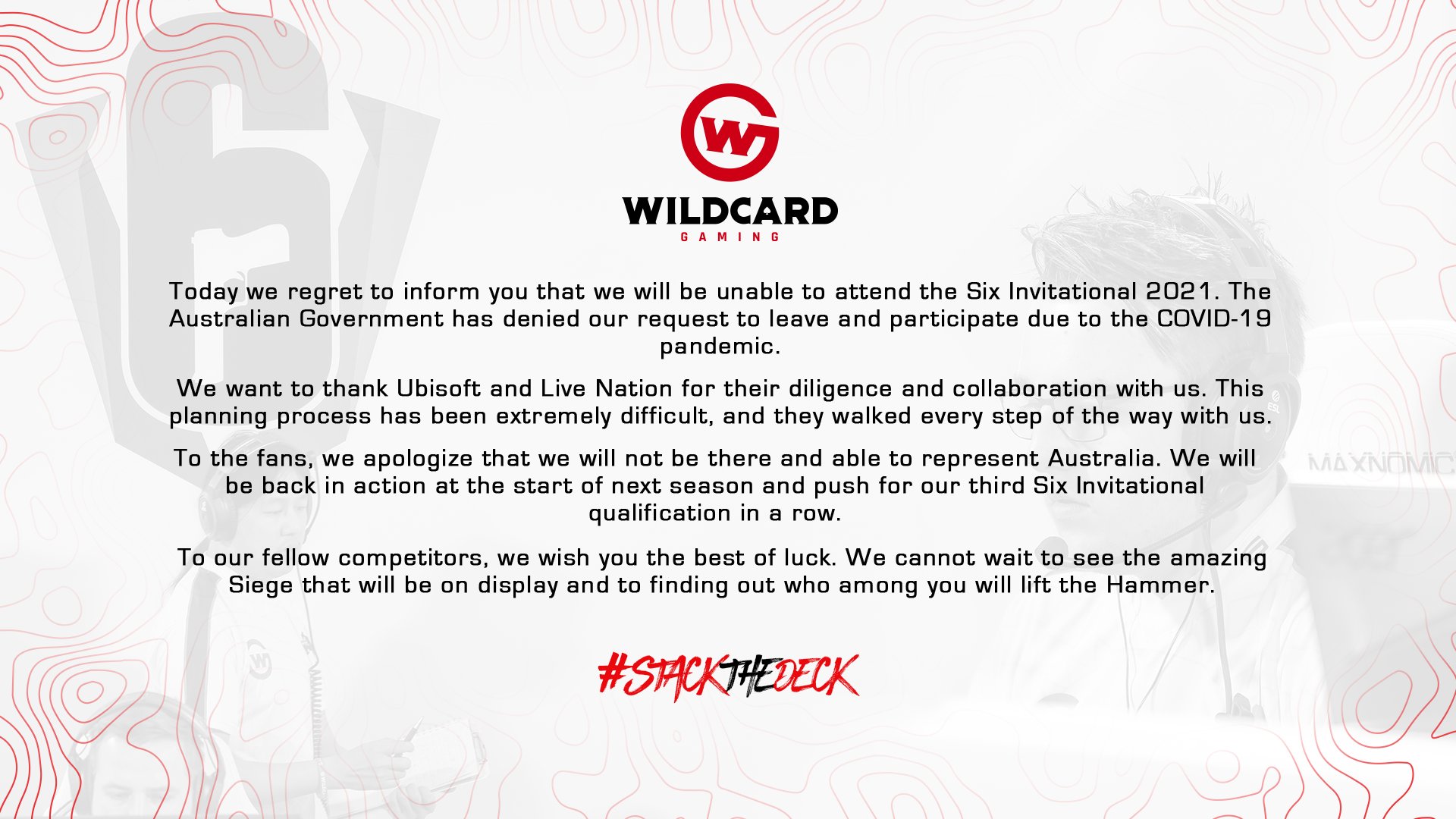 The captain for Wildcard Gaming, Kyle "Diesel" Renton, has shared his disappointment in a TwitLonger:
"I would be lying if I said I wasn't devastated to see how our revitalised roster stacked up this time around at an International event, it would have been Gio, Vincere and Pat's first International event, so to say the boys were over the moon when we qualified after a whole year's efforts would have been an incredible understatement.

Ultimately there was just too many obstacles to overcome, our request of an exemption to the current ban on all overseas travel was denied, but even if we were to attend, there was a MASSIVE risk of being unable to return home back to Australia for months on end in some unfortunate cases, which was an incredible stress on all of us and our families.

But I think it's important in times like these to take a step back and put things into perspective. A lot of people have felt the incomparable effects of COVID this last year, things I couldn't even imagine of as I've been incredibly lucky to be doing what I'm doing at my age and living in such an amazing country like Australia. We truly are blessed and it's so easy to take the small things in life for granted in this day and age.

So we hold our heads high looking ahead, love the group of lads we have right now and we can be proud of what we've done this last year and revitalise the hunger heading into 2021 and beyond. To our fans and supporters, I'm devastated we couldn't represent you guys and Australia at this year's SI and hopefully have given you guys something to cheer for.

Thank you to all involved in trying to make our venture happen, and I want to wish all the teams at this years event Good Luck. There's a lot of great people involved in the scene that I'm sad I won't be able to catch up with again and new people to meet, let's hope our paths can cross somewhere down the line!

Cheers for reading

– Diesel / Kyle"
This response from Diesel shows maturity from Wildcard Gaming Rainbow Six Seige team. Despite the setback, Wildcard are proud of their achievements over the 2020, and are looking forward to the 2021 season.
Unfortunately due to the late notice, and safety policies in place to protect teams from COVID-19, tournament organisers cannot fill the spot left by Wildcard Gaming. The Six Invitational 2021 will now be a 19-team format.
Wildcard gaming will be awarded prize-money, 1% of the prize pool, which they would have earned if they had placed in the 17th, 18th, 19th, or 20th spot.
Some criticisms have been shared, as other esports teams and athletes have been provided travel clearance for competition. Last year the Legacy Esports League of Legends team was provided approval to travel to Shanghai for Worlds 2020. This month, an esports athlete from Australia travelled overseas to South Korea, preparing to compete in the PUBG Global Invitational.S. While the situation is frustrating, the decision from the government appears to be considered. Currently France is reporting around 20,000 new cases of COVID-19 per day, while South Korea is reporting around 400 new cases per day. This decision will also potentially impact Australian casters who were planning to travel to Paris for the championship.
This announcement shared today that Wildcard Gaming has been denied travel clearance for the Six Invitational 2021 is a disappointment for the Oceanic and Asia Pacific region. For any Aussies looking for a team to cheer for, Australian Jake "Virtue" Grannan will be competing with G2, in what should be an exciting world championship.
More information will be coming soon.